SAW 2020 Events
For SAW 2020 I have produced some videos to demonstrate some of my printmaking techniques using a portable press or hand printing.
Printing from Plasticine
Somerset Art Works are promoting family friendly activities during the Open Studio weekends. I have posted a
video
demonstrating how to produce some simple prints from Plasticine.
It is a fun activity for children but it is also suitable for adults. Ideal for short run prints and to learn about block printing with none of the physical work involved in carving a lino.
Parents/carers must supervise children/ young people at all times during activities. I cannot accept liability for any loss, damage or injury connected to these activities.
The video
can be found here
Printing with an Xcut Xpress
The Xcut Xpress is a die cutting machine that can be converted to a portable printmaking press opening up opportunities to print on location, as well as being a more accessible option pricewise.
I am producing a few videos demonstrating techniques using the XCut ahead of these is a short
video
describing how I use an Xcut Xpress die cutting machine as a portable printing press.
The video can be found
here
Enjoy printing but please ensure you assess the risks of using the press and that children/ young people are supervised at all times. I cannot accept liability for any loss, damage or injury connected to these activities.
Printing on location with foraged plant materials
Demonstration
video
working with a small portable press and found material to produce monoprints out on (a somewhat windy) river bank!
Dry plant materials are lovely to print with, either directly or with ghost plates, producing some lovely fine detail and textures. This
video
creates a short series of prints starting from simply laying leaves on an inky plate.
Enjoy printing but please ensure you are aware of any risks, especially working near water and with prickly plants; children/ young people must be supervised at all times. I cannot accept liability for any loss, damage or injury connected to these activities
Drawing style monoprints
Using drawing techniques and a portable press to produce monoprints in location i.e. en plein air

Parents/carers must supervise children/ young people at all times during activities.

Video will be available from Sept 25th
Printing with Aluminium Tape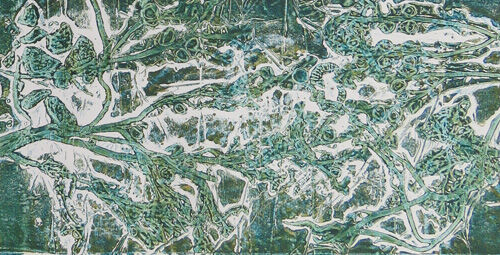 Creating printing plates from found items and aluminium tape

Parents/carers must supervise children/ young people at all times during activities.

Video will be available from Oct 2nd